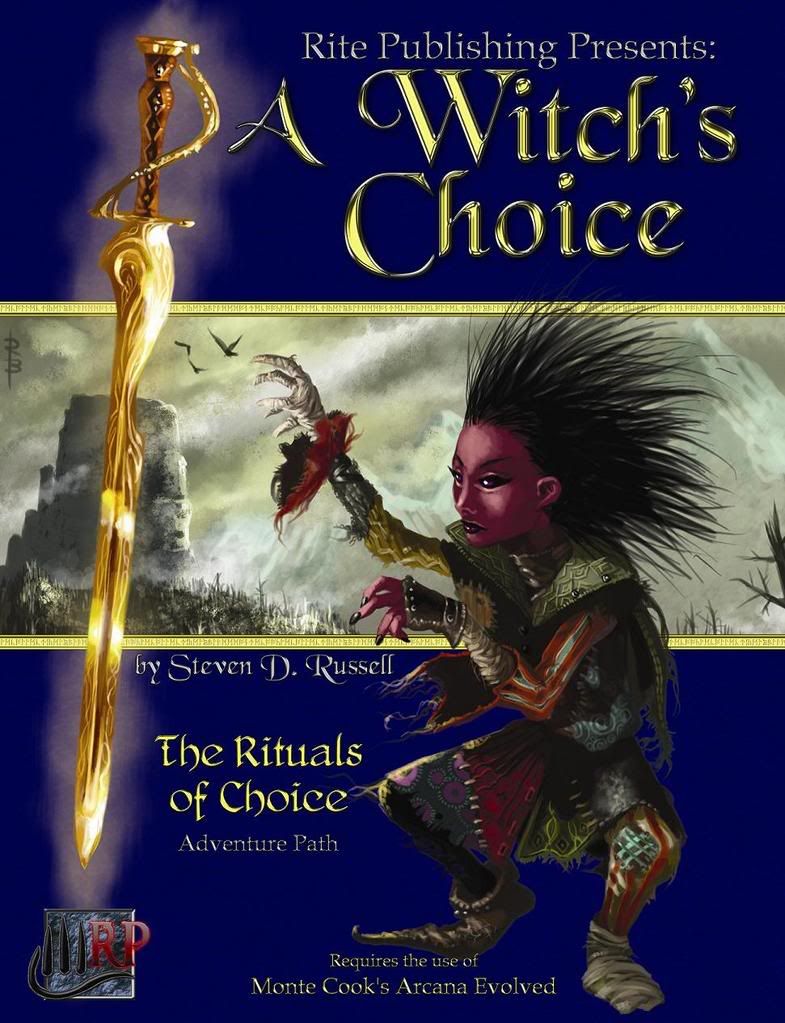 A Witch's Choice is available at Your Games Now, Paizo.com, Rpgdrivethru and Rpgnow

You can also get a free PDF copy, and additional bonus materials when you sign up for senior patronage to the sequel "To Kill or Not To Kill"

The print on demand copy is available at our Lulu store front.



Author:

Steve "Qwilion" Russell (Mythical Monstrosities)


Cover Artist:

Ryan Barger (Adventurer's Vault)


Interior Artists:

Eric Lofgren (Arcana Evolved) and Richard Biggs Jr (Items Evolved)


Cartography:

Jonathan Roberts (Wrath of the River King)



The Rituals of Choic

e Adventure Path begins in the town of Far-rough and continues into the surrounding Edgelands bordering the Central Plains, Floating Forest, and the Bitter Peaks. In a time of looming war between the Dragons and the Giants, a few select people in Far-Rough have strange-shared dreams of a golden jackal. Taking them for a sign, a father now seeks escorts for a journey to

Tesham's Landing

, a mystical witching site that will help cure his afflicted daughter.

In the days that follow, a quest must be pledged to or renounced, a woman saved or damned, a cursed child accepted or abandoned, a ritual may be preformed that saves a single soul or damns the world. The PCs will face all of these choices, responsibilities, and consequences.

"A Witch's Choice" is a full color

Monte Cook's Arcana Evolved

adventure designed for four 1st-level characters. Characters will advance to 2nd level by the end of the adventure. It is the first installment in

The Rituals of Choice

Adventure Path, a complete campaign saga consisting of 25 adventures.

You can help create the next adventure by joining the

"To Kill or Not To Kill"

Patronage Project.



_________________
Steve "Quillion" Russell
Rite Publishing

Breaking of Fostor Nagar (PFRPG/Maptool)