Sale!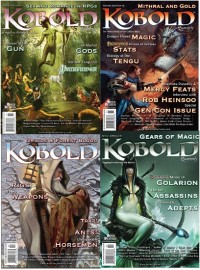 Kobold Quarterly Year 4 (Bundle)
$23.96
Description
Additional Information
Reviews (0)
Four Issues For the Price of Three
Catch up on your back issues with the Kobold Quarterly Year 4 Bundle! (And while you're at it, pick up Years 1 through 3, too.)
It's astonishing how much you get with the KQ bundles. Year four brought the magazine new polish and sharper art and writing, including
Sex and Romance in RPGs
Ecologies of the Shoggoth, Giant Ant, the Gearforged, and Tengus
A New Pathfinder Roleplaying Game Base Class: the Arquebusier of Alkenstar
Cultist Classes, Gambler's Magic, and More for 4th Edition
Three complete Mini-Adventure
New Freeport Backgrounds for the Dragon Age RPG, by Chris Pramas!
Exclusive and official Pathfinder content, including articles by Paizo staff
That's a lot of goodies for your hard-earned cash, but of course the kobolds are always delivering more, including:
Interviews with Rob Heinsoo, Margaret Weis, and Robin Laws
Paladins, secret languages and aasimar PCs
New mounted combat and potion miscibility rules for 4th Edition D&D
New Druid variants, traps, magic, and weapons for Pathfinder RPG
Harem Assassins feats and spells,
Columns by Monte Cook, Wolfgang Baur, and others!
More than 300 pages of great Kobold gaming that's small but fierce!
Additional Information
| | |
| --- | --- |
| Manufacturer | Kobold Press |
Search The Hoard
Show All Products
Cart
d3 Random Thing For You To Look At